I'm back in Southern Oregon now as I (finally) add another update to this blog.  The Ford F250 with the camper had to stay in Portland due to mechanical issues and instead I drove down in a smaller Ford Ranger (this one being an all around more reliable vehicle).  On the bright side, I now have a definite vehicle I can base my plans off of and a reliable daily driver which expands my job opportunities greatly.  I'll end up selling the first truck with the camper on it once it's in better mechanical condition.  Turns out that a 1991 automatic, diesel, 4×4 is a relatively complex engine to work with, especially when previous owners didn't take fantastic care of it.
For a while, I was frustrated about not being able to start travelling and camping at this time, but the more I thought about it the more it seemed the universe was telling me now isn't the right time for this particular adventure.  As much as I want to live out of my vehicle for travelling and adopt a dog, I'm going to hunker down for the colder seasons and stay in the studio apartment I live in.  I've done some job searching and have some small gigs set up (pet sitting, childcare, etc.) as well as applied to the place where I volunteer each week for a paid full time position (wish me luck!).  In the end, I don't want to work full time at a desk job, but as long as I am here I may as well make the most of it and save up some money.
I also have the opportunity to think about which kind of camper I want to put onto my Ford Ranger and do some more research.  Inspiration is popping up all over the place.
Tiny House People on Facebook has provided me with some neat ideas and links lately.
For anyone interested in living in a very small space, you should check this out: Chris Sawey's Hotel Prius.  He's got a relatively nice setup in a very small space – great for stealth camping and super good on gas.
Even though I totally dig the Prius camper, I'm looking at stuff I could use my little truck for.  The ranger has decent towing capacity, so a teardrop trailer could totally be in the mix.  There are lots of teardrop companies out there and here are a couple that I like so far.
North Coast Teardrops is in the Pacific Northwest and makes insulated teardrops in a variety of sizes.
Big Woody Campers are of course some of my favorites in terms of looks – can't really beat that classic wood finish.
Etsy Teardrops – There's a few neat teardrop-esque campers floating around on Etsy.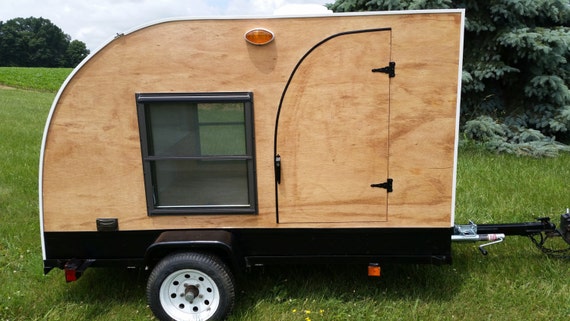 In addition to towing, the ranger could carry a small camper or have a stealth canopy camper.
Stealth Canopy Camper: This is a link to a blog post about a fellow who built out his regular truck canopy with sleeping and storage areas into a cozy stealth camper for a long trip.  This particular setup is appealing both for its simplicity and the fact that the storage areas are on the sides, rather than having a sleeping platform which minimizes sitting ability. There's even a tiny kitchen and water storage in this one.
Bel-Air Camper Shells are insulated with a wood interior, vent, and lighting – making them great and relatively lightweight shells to put on smaller trucks.  That leaves the interior to be made as simple or complex as wanted.  I may end up getting one of these for my little truck because it means you don't have to tow anything, can have an insulated sleeping area, and lockable storage for your gear – all in the  bed of a little truck.  Plus, they're far more affordable than a teardrop.
In some ways, I am back to square one on this project.  In other ways, I am getting an opportunity to really evaluate how I want to accomplish these goals and in what format.  Hopefully, come spring, I'll be more than prepared to hit the road.